Chairman's Message
I would like to pay homage to the founding fathers, and my tribute to all individuals, organisations and committee members who have worked so hard to have given Sikh Union the opportunity  to evolve successfully for over 45 years to become a well known local and international charity currently run by a dedicated team of volunteers.
This is attributed to the team sprit within the organisation, which I am very proud to be part of. Our roots as a hockey club since the early 1970's are still a major part of our organisation and the Sikh Union Hockey section has always been, and is still run by a dedicated team of volunteers.
The principles and values of the Sikh faith are those that we can all share, Sikhs and non-Sikhs alike. Equality, Social Justice, Tolerance and respect for other religions, and an obligation to help those who are  less fortunate then ourselves. With these principles in mind, the aim of our organisation is to raise funds with the help of our sponsors, and also through organising various fund raising events throughout the year, and thus our efforts during the past years, have given us the opportunity to make various generous donations to local and international charities.
Finally, I would like to express my wholehearted appreciation and gratitude to all members of Sikh Union, The Council of Sikh Gurdwaras, Coventry City Council, our volunteers and all other organisations that support us, and for their collaboration in making Sikh Union a very successful organisation.
Palvinder Singh Chana
Chairman: Sikh Union Coventry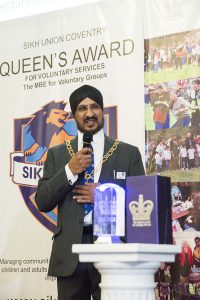 Sikh Union Coventry Committee 2016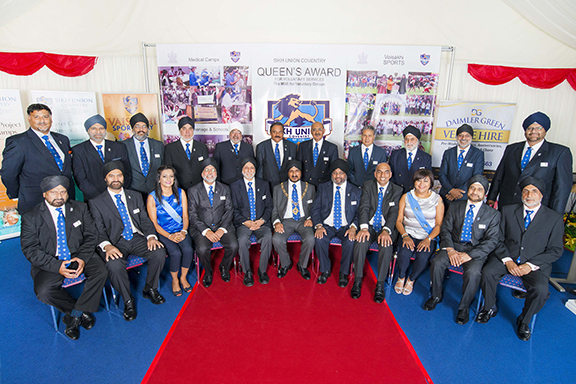 Standing L-R:
Jaspal Matharu, Surinder Matharu, Harvinder Bhabra, Satwant Ghataure, Omkar Hunjan, Karm Bharij, Jag Banwait, Paramjit Gahir, Surinder Bhamra,Pinder Chana and Pummie Matharu
Sitting: L-R:
Abnash Gahir, Baldev Chaven, Jaswinder Matharu, Bali Panesar, Surinder Marwaha, Palvinder Chana, Harbans Gumman, Bhovinder Nagra, Balvinder Kaur, Baljit Dhanjal and Gurdev Jandu
Donate Now
Make a Donation